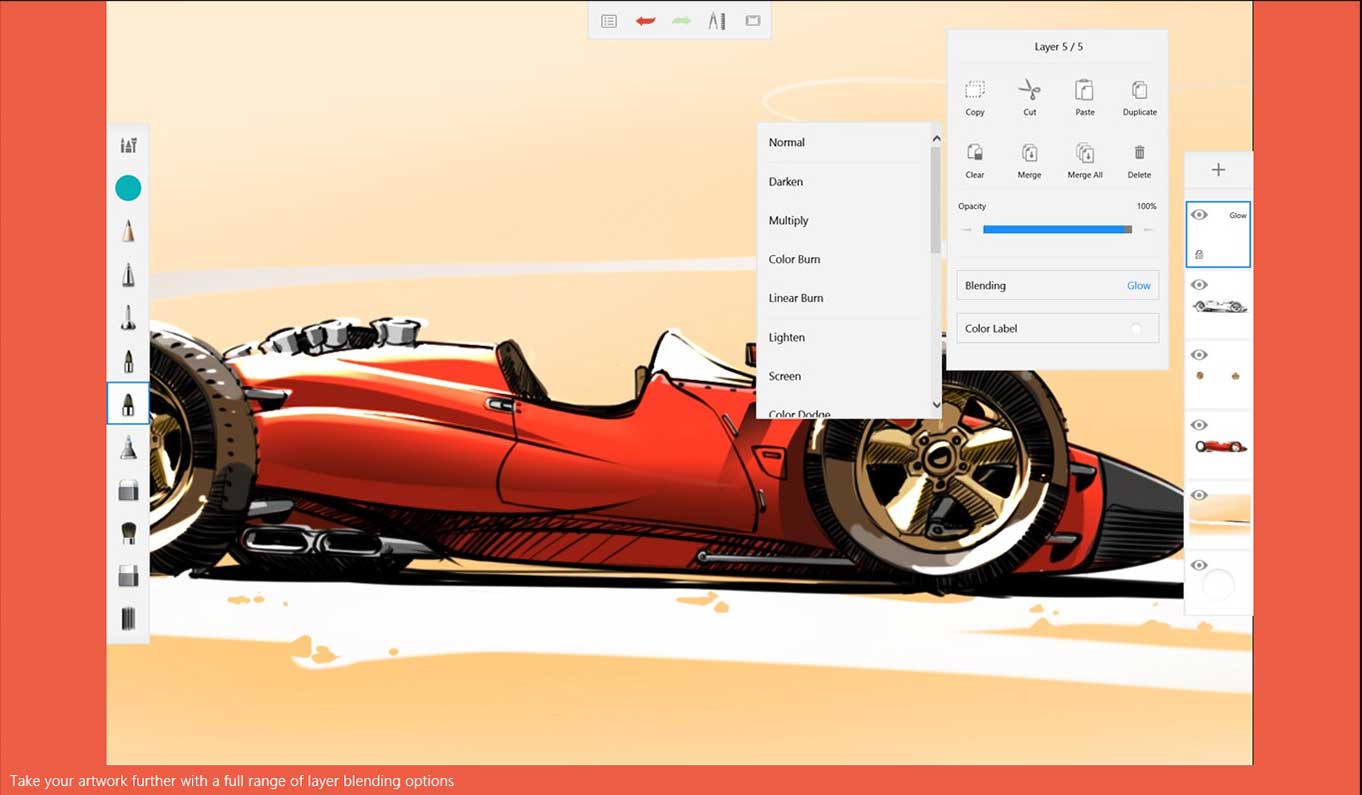 With no fanfare that I can detect anywhere, Autodesk has replaced its free Sketchbook Express app in the Windows Store with the new Autodesk Sketchbook for Windows Tablet app.
This new version is free to download and use just like Express, but the app can be upgraded with a Sketchbook Pro membership ($3/month or $25/year).
With this release, Autodesk has now aligned the interfaces of its iOS, Android and Windows tablet offerings, known collectively as Sketchbook Mobile. The one Sketchbook Pro membership entitles you to unlock all the Pro features on all of your devices, regardless of platform. Curiously, the Sketchbook website has no mention of this new Windows Store version.
Here's the product description from Windows Store:
•Designed specifically for both pen and touch input on Windows tablets
•The entire screen is your canvas with a full screen workspace and unobtrusive user interface
•Open and Save layered PSD and TIFF files for easy interoperability with other applications, including SketchBook for desktop
•Control the finest details of your art with up to a 2500% zoom
•Choose from over 10 preset brushes, including pencils, pens, and markers that deliver a natural drawing experience
•Synthetic pressure-sensitivity
•Sign in with a free SketchBook account and unlock the Layer Editor, Symmetry Tools, and more
•Advanced Tools with a Pro membership
•Pro membership: Choose from a comprehensive brush library with pencils, pens, markers, and brushes, including new Synthetic and Smudge brushes
•Pro membership: Full layer controls, including rich layer blending modes; makes image manipulation easier than ever
•Pro membership: Other workflow improvements, including new ruler guides, flood fill, and much more
•Pro membership also unlocks complete access to SketchBook on Windows desktop, Mac, Android, and iOS, including all upgrades as long as your membership is active
Playing with the app briefly on the Surface Pro 3 and my desktop pc with a Monoprice 22" Smarttouch pen display, the experience is very nice. The app features a very minimal interface that is easy to hide, leaving a full screen blank canvas. If you use Sketchbook, this update is a no-brainer and you may find yourself needing to use the desktop program less often.
ONE IMPORTANT CAVEAT: With Windows 10 preview running on the Surface Pro 3, the app runs very poorly because of a bug in build 9926 that crippled hardware acceleration. Microsoft published a graphics driver update that fixes hardware acceleration for other apps, but now Sketchbook for Windows Tablet won't start on my device. I've sent a bug report to Autodesk, but I haven't seen the issue reported elsewhere.